Show results for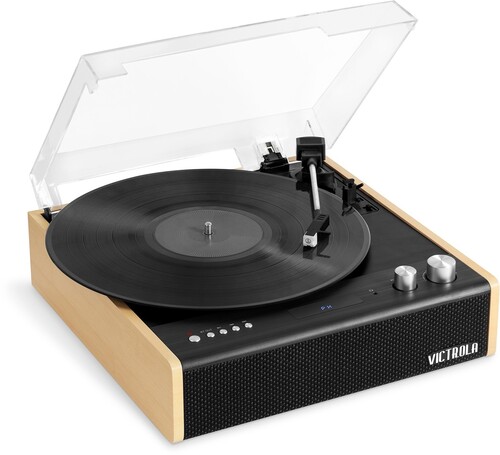 VICTROLA VTA72BAM EASTWOOD BT TRNTBL BLACK/ BROWN
Victrola VTA-72-BAM Eastwood Dual Bluetooth In/Out Turntable 3 SpeedFM Radio With Built In Speakers (Black/Brown)
The Victrola Eastwood features a sleek, classic design, molding upgraded features with classic Victrola sound. This 3-speed record player plays all your favorite 33 1/3, 45, and 78 RPM records, and Dual-Bluetooth connectivty allows you to stream music from your smart device, or play your records through any external Bluetooth speaker. Modern bamboo finish brightens up the room and makes the Eastwood the focal point of any listening space. The Audio-Technica AT-3600LA cartridge combines with the custom tuned
Product Features
3-speed (33 1/3, 45, 78 RPM) record player. Built-in, custom tuned speakers bring unparalleled sound quality.
Premium moving magnetic Audio Technica AT-3600LA cartridge means no skips and increased clarity
Removeable dust cover keeps your records dirt and grime free
Easily stream music from your smart device, no messy wires!
With Dual Bluetooth Connectivity, you can now play your favorite records through any Bluetooth speaker!
Built-in headphone jack for private listening, or use the RCA out to connect to your existing sound systems!
AC/DC Adaptor - Input 100-240V, 50/60HZ, 0.2 Max
Output - 5V-1A