Show results for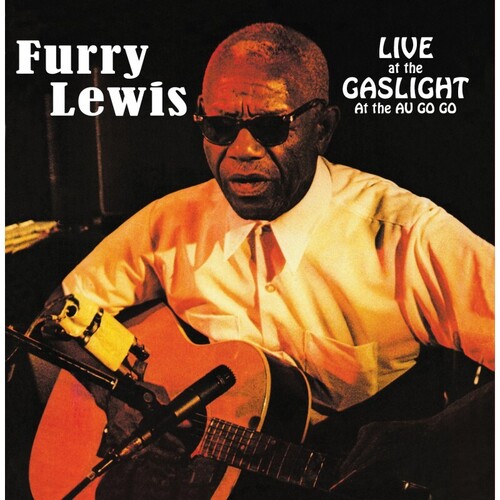 Description
Live At The Gaslight At The Au Go Go on CD
Walter "Furry" Lewis was born in Greenwood, Mississippi in the 1890's. It was in Memphis in the late 1920's that Furry began recording for Vocalion and RCA Victor. When the depression hit, blues recording slowed down considerably. And as the thirties marched forward, country blues records sold less and less. Furry Lewis, like so many great bluesmen, slipped into oblivion. He made his living as a street cleaner for too many years.
In the late Fifties, Sam Charters rediscovered the unusual bluesman and recorded him for Prestige. But Furry still had to make his living in the Memphis sanitary department with no means of making another career in music and with no knowledge of the social security to which he was entitled. In the late Sixties, things began to stir. Furry had always been entertaining at private functions around town. But now he was teaching bottleneck guitar to a class of fascinated youngsters in a poverty program, appearing at the annual Memphis Blues festival, recording albums for Biograph, Folkways and Adelphi and appearing on recorded anthologies on Arhoolie, Sire and Blue Thumb. Blues fans and general music lovers became more aware of Furry. There was a feature article in Playboy, a television appearance on a Leon Russell special and a spotlight performance on Don Nix's first album. That was 1970, and Furry was reinstated as a major force in the blues field, and everyone knew it, everyone who cared.
What makes Furry so unusual is not his bottlenecking style, but the other elements that influenced him. In the twenties, he was a guitarist and entertainer for a travelling medicine show. In his early Memphis days, he befriended the great and legendary W .C. Handy and learned a great deal about ragtime and jazz.
His playing is not strictly in the Mississippi delta tradition. Aside from ragtime and Southern Tennessee blues influences, Lewis is uniquely creative unto himself. He does not have the fleet, smooth style and articulation of a Fred McDowell, but everything he plays is carefully thought out and purposefuI. He uses the guitar in very untraditional ways, as a drum, as a second singing voice and as a walking bass. You can hear all of these techniques on this recording.
This album was made at the Gaslight in New York during the month of August, 1971. It was Furry's first New York appearance in well over twenty years. The occasion was this live recording that was arranged by writer Jim Nash, who had learned of Furry Lewis from Jimi Hendrix several years back. A justifiable analogy can be drawn between the late Hendrix and Furry. Both have used the guitar in unusual and creative ways that are outside its tradition realm, and both have proved themselves as master showmen.
Furry's beautiful personality, showmanship and sense of humor come through beautifully on this live album. The material is from many sources. "K.C. Jones," "I Will Turn Your Money Green," and the traditional "John Henry" were successful 78 hits by Furry in the late 20's. "Nearer My God To Thee" and 'When I Lay My Burden Down," both of which Furry has recorded elsewhere in the late sixties, represent the spiritual tradition that most bluesmen have been exposed to. "Brownsville," most likely written by and usually credited to Sleepy John Estes, has been a Lewis trademark for many years. Furry's unique version is almost a new song unto itself. Furry's eclectic taste is illustrated by the inclusion of "Waiting For A Train," a classic thirties song written by the late yodelling country singer Jimmy Rodgers. "East St. Louis" is a bit of musical autobiography.
This is Furry Lewis' first album for a major label and his first really live recording. It also introduces his young 23-year -old protégé Ward Schaffer, who backs up Furry on three cuts. Furry Lewis may be approaching 80, but age has had only its most superficial physical effects on him. May this fine recording open up a new era for a brilliant and neglected bluesman.