Show results for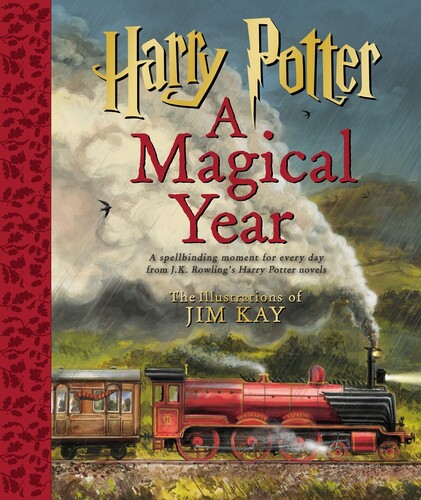 HARRY POTTER A MAGICAL YEAR
Summary
A unique and beautiful gift book celebrating the art of Jim Kay -- 366 magical moments from J.K Rowling's Harry Potter novels, evoked in spellbinding brushstrokes, characterful ink work, and illuminating pencil sketches.
This irresistible gift book takes readers on an unforgettable journey through the seasons at Hogwarts. Jim Kay's captivating illustrations, paired with much-loved quotations from J.K. Rowling's Harry Potter novels -- one moment, anniversary, or memory for every day of the year -- bring to life all of the magic, beauty, and wonder of the wizarding world
Jim Kay has been enchanting readers since the publication of the Illustrated Edition of Harry Potter and the Sorcerer's Stone in 2015. Now, in Harry Potter: A Magical Year, a selection of Kay's most iconic illustrations are joined by previously unseen pencil sketches and preparatory pieces, offering unique and fascinating insight into the artist's sketchbook.
From the snowy towers of Hogwarts, to the dancing eyes of Professor Albus Dumbledore, to the hustle and bustle of Diagon Alley, this visual feast is the perfect companion for readers of all ages, at any point on their Harry Potter journey, and a gift to cherish for years to come.
About the Author
Jim Kay won the Kate Greenaway Medal in 2012 for his illustrations in A Monster Calls by Patrick Ness. Jim studied illustration at the University of Westminster and since graduating has worked in the archives of Tate Britain and the Royal Botanic Gardens at Kew. Jim has produced concept work for television and contributed to a group exhibition at the Victoria and Albert Museum in London. He now lives and works in Northamptonshire, England, with his wife.
J.K. Rowling is the author of the seven Harry Potter books, which have sold over 500 million copies, been translated into over 80 languages, and made into eight blockbuster films. She also wrote three short series companion volumes for charity, including Fantastic Beasts and Where to Find Them, which later became the inspiration for a new series of films. Harry's story as a grown-up was later continued in a stage play, Harry Potter and the Cursed Child, which J.K. Rowling wrote with playwright Jack Thorne and director John Tiffany.
Product Details
With illustrations throughout
Hardcover: 240 pages
Publisher: Scholastic Inc.
Juvenile Fiction / Fantasy & Magic