Show results for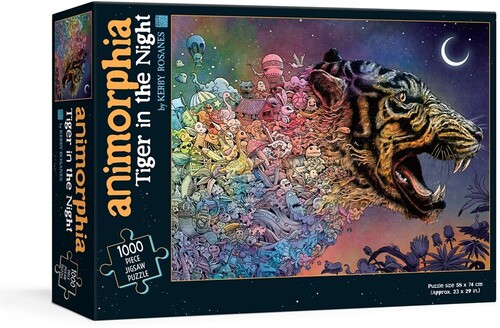 ANIMORPHIA TIGER IN THE NIGHT PUZZLE
Summary:
An incredible 1,000-piece puzzle, using the iconic cover image from Kerby Rosanes's internationally bestselling adult coloring book, Animorphia, colored in by Kerby himself.
For the first time ever, the astounding illustrated work of Kerby Rosanes will be translated to a puzzle, giving Kerby's devoted fans an entirely new way to engage with his beautiful, super-detailed work. Kerby himself has colored in the iconic cover image from Animorphia, a tiger that's a whole lot more than what you get at first glance. Puzzle fans and Kerby fans will unite on this ultra-tricky, ultra-satisfying puzzle challenge for adults!
About the Author:
Philippines-based illustrator Kerby Rosanes runs the popular Sketchy Stories blog. He works mainly with ordinary black pens to magically illustrate his "doodle" world. Most of his works are characterized by whimsical lines, patterns, characters, and little elements that are spontaneously combined to create massive compositions depicting his everyday experiences or anything that inspires him.
Game
Publisher: Plume
Games & Activities / Puzzles