Show results for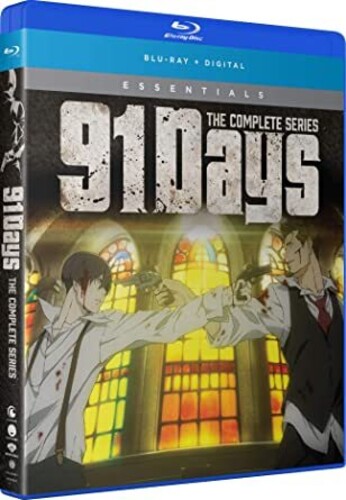 Description
91 Days: The Complete Series - Essentials on Blu-ray
91 Days Essentials Blu-ray contains episodes 1-13 of the anime directed by Hiro Kaburagi.
Prohibition—a lawless era where bootleggers prosper and mobsters prowl. In this murky world, blood is shed without regard or regret and for Angelo Lagusa, it's all he knows. After the Vanetti Mafia murders his family, Angelo is left alone, the burn of revenge just a flickering light until he receives a letter that holds the key to vengeance in the form of a hit list. But there's a catch—he'll have to get close to the Vanetti family by befriending the don's son, Nero. Working side-by-side with the future don, Angelo becomes Avilio Bruno, a loyal hired gun with a talent for pick-pocketing and quick planning.
As the days dwindle away, Avilio and Nero grow closer and the kill list gets shorter. But between two families at odds and every target on Nero's head, the two find themselves in a world of trouble. When it comes down to it, will Avilio—no, Angelo—pull the trigger on a man who considers him family?
FEATURES:
Media: Blu-ray
Publisher: FUNIMATION
Spoken Language: English, Japanese
Subtitle Language: English
Genre: Action, Drama
Themes: Historical
Age Rating: 17+
Run Time: 325
Release Date: 10/23/2018
Region Code: A
91 Days: The Complete Series - Essentials Blu-ray